Intercoastal Pools did mine almost 20 years ago, and I still use them when I have a service issue. so worth checking them out for sure.
I had a unique design in mind, and had to struggle with them a tad on the design, but they did it and the pool is solid 20 years later.
A couple things I would do differently:
#1) If you are a skateboarder, I would build a swim/skate pool. Drain it in the cooler months and have fun skating it. You won't be swimming in it anyway. I think Team Pain is building these, and supposedly there'a a guy in Satellite doing it too.
#2) If you do a SPA, I would plumb it separately from the main pool (no "spillover") and use an electric heater + cover. keeping it hot all the time. Propane and the gas companies are a pain in the ass.
#3) Consider doing #2 just a bit bigger (more room) and skipping the "pool" 99% of the time I'm in the heated spa, and don't bother with the actual pool. The ocean is my "pool" It would be nice to have an always hot and ready spa with lots of room.
Things to DO:
#1) The Salt Chlorine generator is worth all the cost. Makes things WAY easier. You'd be surprised how quickly your pool turns green without it, and how much of a headache it is to maintain manually.
#2) Skip those water "test kits" just use the strips. Way easier.
#3) Use as few pumps as possible. Mine is an old design with 3 frikkin pumps: one for the main filtration system, one for the spa "jets" (they suck) and one for the "main waterfall" (could be part of the main pump)
The less pumps you have, the less there is to break and replace. Right now, I've blown off the waterfall and jet pumps. they are just sitting there rusted out. At least $1000 to replace for no real good reason.
#4) Go with a color changing LED light. no moving parts and pretty cool. Works best if the pool surface color is light, and not dark.
#5) Go with an in-floor cleaning system. They are great. The best ones rotate as well as jet water (like a sprinkler) Mine only jets water and that leaves
"dead zones" where sand collects on the bottom.
You don't want an in-floor cleaning system if you build a swim/skate for obvious reasons.
#6) The "Aqualink" touch panels are worth getting. It's basically a CAT5 connected touchpad in your house that goes back to your outside service panel so you dont have to walk outside to change from pool to spa or do whatever else you want to do. Mine is old and uses cat5. I believe they have wifi enabled ones now that use your home wifi and lets you also control from your phone- so you can make adjustments from where ever via the internet.
The valves are automatically controlled/moved using Jandy electrical/automatic actuators. pretty cool.


-------------------------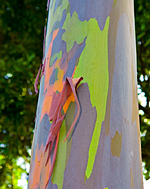 Buy Rainbow Eucalyptus Trees
Edited:
08/12/2020
at
05:47 PM
by
paddleout