OK- I know this has been posted a 1000 times, but I could use some help.
Have never been to Costa Rica, and I'm bringing the family- my son 15 (he surfs)
My wife and daughter (11) They don't really surf, but would like to do the beginner lesson thing.
Now if I were going solo, or just with my son, I would pick a quiet area with good surf.
However, the whole family is coming, so we need a place more touristy and gringo.. and with maybe more posh resort conditions.
None of us speak Spanish either.
So for the above reasons /I have been considering these 3 locations:
1)
Jaco
- have had this place recommended by our pediatrician- said it was good for kids. My concern here is that the waves may be too small to keep my son and I entertained. (a friend says this is like going to Cocoa Beach)
2)
Witches Rock Surf Camp, Tamarindo
- between the beach here and the possible Camp trips to other locations, I think my son and I will be happy with the surf- also seems like my wife/daughter will have fun with lessons.
BUT my concerns here are: will the wife/daughter get bored in this location after awhile? They shuttle you from the airport to the camp, so I'm concerned we they may get stranded here w/o other things to do.
Is this location:
* Near any Rainforest Parks where they can go to see wildlife
* Near any other fun activites besides surfing
3)
Third location- Nosara.
was recommended by a surf friend- more remote, will likely need a rental car.
My concerns here are that the waves may get too big (?)
and wife/daughter may not have enough to do (?)
I really appreciate any feedback- I just need to pick a place and go to get our Costa Rica days started. Want to pick the best spot for everyone to have fun.
As a gauge- My son can handle up to about head to slightly head+ Florida surf
I don't need epic surf- just waist to chest would be fine if we have access to other activities (rainforest, etc) to keep everyone happy.
I am also concerned about crocodiles, especially in Tamarindo- so any advice there is also appreciated

Thanks!


-------------------------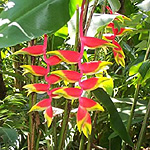 Exotica Tropicals
Plant NurseryBrevard Florida
Edited:
04/10/2019
at
07:15 AM
by
paddleout