Bamboo can range from tricky to easy to propagate.. depending on the variety.
Some of them you can take a section, however long you like, and cut off the green branches except for along one edge. Then plant it in the ground w the green branches pointing up.
Keep it watered, etc. Maybe some hormone/starter solution too.
I haven't had much luck with that method.
The best way is probably division.
To be real careful, lop a few stalks at a manageable height.. but tall enough to include a bunch of green leafed branches.
You can try using what you cut off to do the side planting method.
Then let the cut stalks recover and grow more branches for a bit before doing any digging.
Then dig up that section of the rhizome, cut it out and replant.. be sure to not let it dry out.
You do want to get some established older culm & rhizome.. not just a brand new shoot. In fact they say shooting season is not the best time to divide.


-------------------------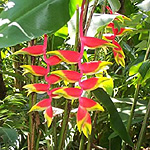 Exotica Tropicals
Plant NurseryBrevard Florida
Edited:
09/13/2009
at
11:05 PM
by
paddleout