Been growing and selling them for years in Melbourne Beach.. have alot of experience with them.
IHB's photo just after the hurricane is typical if it gets a full hurricane hit like we did with Irma. Leaves strip off, some branches break, but generally the trunk stands straight, unless it was planted in a location where it couldnt root properly and had to grow shallow root system, in which case, like any tree in that situation, it could lean or be toppled.
Mine did the same thing after Matthew and by mid summer looked pretty much like nothing had happened, then Irma came and started the process over again.
It's about halfway back to being releafed after the recent rains, and showing some nice color right now.
Re: cold temps, mine have gone through every low temp we've had since 2004 without any real issues.
Younger sapling trees are more tender, so if its going below freezing, its advisable to protect them.
A 5 foot sapling will become a 10-12 foot tree by November if planted out in early spring, watered well and fertilized regularly. Generally In our area, thats about all thats required to get them big enough to deal with our winters.
They are easy to grow here, the one thing you have to stay on top of is making sure they are getting plenty of water at all times until they have rooted all the way down into the local water table.
I sell Rainbow Eucalyptus at Exotica Tropicals.com :
http://www.exoticatropicals.co...stock-for-sale/



-------------------------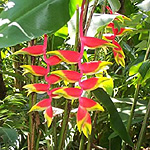 Exotica Tropicals
Plant NurseryBrevard Florida
Edited:
04/19/2018
at
06:35 PM
by
paddleout