The big steps are:
1) coat the whole plant with oil. (volck oil, horticultural oil, etc) do this in the evening.
2) Trim the tree down if possible to remove infected limbs/leaves. You want this stuff already coated with oil, so it doesnt spread during this step. After you trim the plant, spray it a little more with oil to hit any areas that have now opened up. Try to get underneath the leaves, etc.
3) Apply Imidacloprid. You can do a liquid soil drench first (usually it has fertilizer in it too like the Bayer stuff) to get it taking it up fast. But I would also use a granular longer-term systemic insecticide, becuase it will stay on top of the bugs for you (there is a 12-month granule made by Bayer) Always apply as directed on the label.
4) About a week later, check again and reapply oil as needed.
The thing to keep in mind is that the Imidacloprid takes time to work. It is not going to instantly kill the bugs. Thats what the oil is for.. it coats them and suffocates them. So you have to remember that any un-oiled bug is not going to die. Thats why you check back in a week and reapply to try to get those guys. Thats also why you need to get the oil in every nook and cranny where they will be hiding. A hose-end sprayer is good for this type of oil-down.
sometimes it will look like the bugs are still there, but its just their dead bodies. you can hose that stuff off.


-------------------------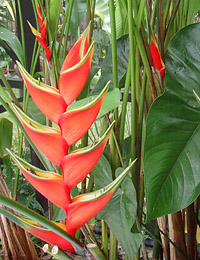 Exotica Tropicals
Plant NurseryBrevard Florida