Just got a new shipment of tropical flowers in today. Really packed bouquets this time- each includes:
2 Big Upright Heliconia
1 Hanging "Lobster Claw" Heliconia
2 small heliconia
3 Red Gingers
2 big Ti Leaves (foliage)
1 Palm frond
1 Cordyline Tip
1 Draecana Tip
Only $20 for a bouquet!
-You can put them straight into a vase, or make you own arrangement.
I will be selling these this Saturday at the FIT Plant Sale "Botanical Fest" from 8am to 4pm
You can also PM me if you want to grab one before they are gone. I will be around tonight and part of the day tommorow- I'm in the South Beaches.
Here is one bouquet put straight into a vase:
And here is a bouquet made into an arrangement:
Bring the tropics home this weekend!



-------------------------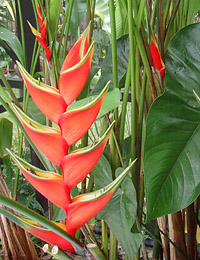 Exotica Tropicals
Plant NurseryBrevard Florida