I'll be there with a bunch of heliconia, some red ginger, purple crinum lily and the rare variegated crinum too.
Also have some nice rooted-in plumeria that I started last year and they are really ready to start busting out. The rooted ones are all the hardy yellow variety that is virtually indestructable.
Some of them are up to 3 feet tall with multiple branches.
I also have some Duke plumeria, and some pink as well as possibly some others like Grainy Moragne. Those are all non-rooted cuttings, ready to pot up.
Heliconia include Rostrata, Raulineana, Carmasita, Stricta Firebird, Stricta Iris, Latispatha Distans.
Also will have Tahitian Gardenia, Philodendron Gloriousum, Philo Speciousum and some 2-3 foot Hurricane palms as well.


-------------------------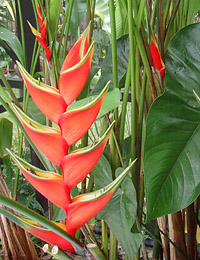 Exotica Tropicals
Plant NurseryBrevard Florida