OK- I've had this uber shadey area in my yard that has tormented me for years. Nothing tropical looking will grow there. Even my sun-sensitive philodendrons decline in this spot.
At the same time, I've got this corner of my living room that is screaming for a tropical looking potted plant, but everything I've tried there has died- likely due to poor light.
(it gets ambient light from the porch sliders at best)
So I was constantly trying new things there and watching them die.
Then I was at Home Depot in October of 2010 and saw these big leaved, dark green peace lilies that looked and felt very tough. For $19 it was pretty big and would fill the spot in the living room quite nicely.
I had seen peace lilies a bajillion times, and never really liked the look and just passed on them. But I guess I had not considered them for the interior spot - just the yard- and now I was realizing it would look pretty tropical in the house, and the price was worth another experiment.. so I bought it.
Took it home- it was too big to get in the bullet planter, so I divided it in half. I did a little reading on Spathiphyllum and discovered they can take heavy shade (good!) but don't like any cold (hmm) Still, i was reading some accounts from people that they can die down in the winter but will sprout back up.
So I figured what the hey, and took the other half and stuck it in a pot in my outdoor shadey problem spot.
Well, now its months and a real sharp cold snap later, and both plants are doing just fine.. in fact, they are not declining at all in either location, and are putting out new big growth.
So I was stoked!
I decided to get some more to fill up the shadey problem spot outdoors for once and for all.
I kept looking around for nice big leaved specimens like I had found at Home D in October, but never spotted any that big. Just these medium and small sized ones.
So I ended up buying a couple medium sized ones and planted them back there.
Here's the thing.. after walking by those plants for months, I started noticing that the new ones just seemed different from the original big ones.
I had thought the smaller ones were just younger, and would grow up to the leaf size and strength of the first one.. but after awhile I realized that something was off.
So I did some more research and discovered that there are different varieties of Spathiphyllum, but at the box stores, they mark them all the same: "peace lily"
I didnt really like the way the new ones looked or grew. They seemed more sensitive to the outdoors, their leaves were smaller and more papery/weak. They yellowed easily and just seemed touchy.
Turns out, the one I originally got, with the big thick leaves (the reason a peace lily caught my eye to begin with after having ignored them for so long)
was a hybrid called "Sensation"
and the rest are- well, regular kind that I'm not crazy about hahaha.
So I started looking around and luckily found some more "sensation" mixed in with the other kinds. They are priced the same, marked the same, but they arent the same. They get much bigger (up to 6 ft) have WAY thicker and bigger leaves that are dark green and ribbed. Almost like a white bird or a large philodendron.
They seem truly tropical in appearance, and send out the occasional huge white flower.
But here's the best part- the freekin LOVE the shade, and don't seem (at least over this past winter) to skip a beat from cold.
So now I'm finally going to be able to fill in that dead zone in my backyard with some big leaved tropicals that will actually grow.
You can spot the difference here:
http://www.houseofplants.co.uk...wallisii_Sensation.htm


-------------------------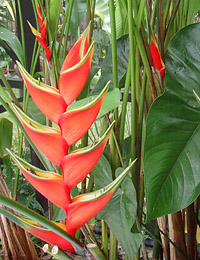 Exotica Tropicals
Plant NurseryBrevard Florida