This Saturday I will be holding an open garden & plant sale from 9am to 2pm.
I'll be giving tours around the garden and pool garden, as well as selling lots of interesting tropicals.
You'll be able to see how alot of the plants look when mature and settled into the landscape, get answers to questions, and get ideas for your own jungle.
My plant prices at the home garden plant sales are 10% off the price marked! (what I regularly sell them for)
I've got lots of different Heliconias, some Borneo Giants, Variegated and Purple Crinum Lily, Big Leaf Philodendrons, even Bromeliads.
I'm located not far from Sebastian Inlet, so you can make a beach day of it.
For all the information and details, check out my website:
http://www.MelbourneBeachGardens.com
I'll be posting pics of the garden and available plants in this post throughout the week.
But for now, here's a shot of the garden:
Tropical Plants For Sale: Heliconia, Ginger, Alocasias, Philodendrons, Bromeliads


-------------------------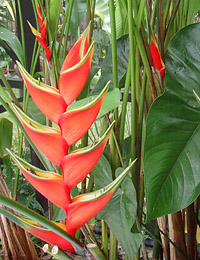 Exotica Tropicals
Plant NurseryBrevard Florida
Edited:
04/09/2012
at
01:50 PM
by
paddleout