I'm still working with baby #2 over here.. in fact, we may have some stuff we could give you by the time yours is due.
RE: a pack n play- we have one, but honestly really never use it.
They are good for a portable "crib" on trips- but usually hotels can supply these anyway.
For the home, I just don't find that we needed it- if you want the child in a safe enclosed place you can put them in their crib once converted with higher sides- basically the same thing as a pack n play..
or put them in an exer-saucer. Those are really good- especially the 3 stage ones.. however they can be a bit pricey. probably one of the more pricey baby items- they don't even use them that long- since once they are up and moving then all bets are off.
So I would see if anyone has a baby growing out of one, or keep your eyes on the consignment stores.
Truthfully, I often just clear the floor, put down a blanket, and let the baby roll around / try to crawl. that's what they really want anyway, and just get frustrated hitting the sides of a crib.
Since you're not really going to be taking your eyes off them anyway- that's always an option.
Word to the wise- I'd buy a BOUNCEY 1000x before a pack n play. You want a simple one with plastic click-in latches. no wierd thing with straps that have to go through loops or anything. The idea is a very quick and easy click in.
These are what you'll use when you need to do something real quick and need to know the baby isnt going anywhere. Fisher price makes good ones. you can get them at Target. Again- simplicity usually rules here. There's a cool jungle themed one I saw recently- at Target I think- that had a nice play rack, but wasn't to convoluted. the Fisher Price blue "Sea Life" one is a classic and works great.
I wouldn't bother with a "swing" the babies don't always like them- they are pricey, and they just add more clutter. I'd stick with one good bouncer.
For example:
http://tinyurl.com/5ohkxw
note the simple wire legs
re: strollers- you're going to want one that the car seat can click into, and then later can be used w/o the car seat.
Here's the thing with that- the baby is only in the car seat for awhile- so don't break the bank on some super setup- you really won't need it. We had a peg-perego pricey stroller and in the end it drove me nuts.
What you really want to look for are 3 things-
1) an easy click "base" that child-latches into the car using the safety latch system. the car seat itself "clicks" into the base and the stroller.
2) the car seat itself should have a nice easy to carry ergonomic handle. we have a baby trends this time around and I don't like the triangular handle, or the sticky rubber its covered in. what i also don't like is the kooky way the straps latch to the lock- you gotta hold all thre pieces together to get it to latch.. better to be able to latch in each car seat strap one at a time... so look for that.
3) the stroller that you use should be easy to fold, have plenty of storage- cup holders, etc all easy to access. Did I mention SIMPLE to fold? and it STAYS folded?
.. it should also not be ginormous. Lean and mean is the key here.
various brands of car seats and strollers can interchange with each other- so try them out and get a setup you like.
after the child gets a bit bigger, you'll probably just end up using that lightweight McClaren stroller everybody's got. There's a reason they use those- once your child starts getting heavy, you want the stroller to get light

At that point they also move up to a 5-point harness car seat which is another ball of wax- don't try to tackle that one before you come to it

In conclusion- most new parents get "baby fever" and the industry preys on this. The second time around is different though.. you realize that you went overboard the first time hahaha. So keep in mind to keep things SIMPLE and LIGHT. Don't buy the craziest boogaboo rodeo drive stroller or whatever the magazines push on you- usually they are annoyingly complicated, too bulky and have kooky ways of doing things.
Keep it simple, keep it economical, and don't buy things BEFORE you need them. Buy it on an as-needed basis, and you'll keep your life running alot smoother.. not to mention keeping the clutter down. You gotta watch that.. its tempting to buy all this baby junk and then it ends up stubbing your toe at 3am because you don't use it and there's nowhere for it to go- plus it cost $150 hahaha
Invest in a good wireless video monitor before getting any extras like a swing or a jumper or 10,000 outfits

You will need the monitor because you should be putting the baby down to sleep in its crib alone after feeding after the first month or so.. you don't want to create a situation where the baby can't fall asleep if its not cuddled up to Mom- trust me. Let your baby get used to sleeping in the crib solo.
re: diapers, we use pampers SWADDLERS, they don't leak, haven't had a problem. You'll need a diaper genie. a changing table.. if you see redness put the diaper rash cream on it. Don't use baby powder- its dangerous to baby's lungs, google it.
That's about all I can think of... get them used to the water early.. take them in a pool, the tidepool, etc My 5 month old has been going in the pool now for four months, I can dunk her under quickly- no problems. In Florida, the faster they know how to swim, the safer they will be.
re: sleep- the key is to work in shifts. Don't do a "you go this time" thing. that just means you both wake up all night. Have someone sleep, the other one is on duty.
If Mom breastfeeds, have her pump as well so you will have some milk around to bottlefeed when you're on. Keep a tub of Similac "sensitive" formula around as an emergency backup. It's no big deal if a nursing baby gets some formula once in awhile- just make sure its "sensitive stomach" formula so it doesn't give gas if they arent used to it.
A few more tips- do get a couple "Baby Einstein" dvds- as they get older they like these.. very simple, easy to take in. You are welcome to borrow some from me, as I have the whole damn set :/
Also, if you have digital cable, channel 309 is pre-school on demand. Has some slow moving soothing shows they can watch from the bouncer to give you a break.


-------------------------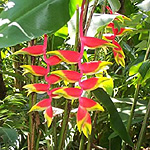 Exotica Tropicals
Plant NurseryBrevard Florida
Edited:
07/09/2008
at
12:58 PM
by
paddleout