"What is "right side up" in outer space without gravity to astronauts, much less to Starman who could care less??
Without an actual reference point or a massive body (earth) close enough to experience
gravity, there is no way of knowing "proper" orientation.
Space is intrinsically isotropic.
In the ISS, they have "reference points" as to instruments, consoles, etc
to know they are upside down, as they float and rotate but do they feel upside down?
The ISS could rotate through 360 degrees and they would rotate also,
but would they feel upside down? Not if everything rotated with them, unless
they felt some bit of gravity.
Which way is "right" ... the only "correct" way is to your eye, the viewer. "
Sunrise- i have often thought the same thing myself.. but then I thought "what about Saturn's Rings?" and "what about the orbits of the planets around the sun"
what is it that keeps these objects on a plane and not just orbiting in every which way, since there is no up/down in space?


-------------------------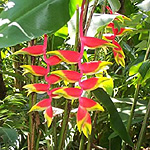 Exotica Tropicals
Plant NurseryBrevard Florida