My son is an avid gamer- I went though all of this already over the past year.
Best deal we found on a good starter box that makes upgrading easy is Cyberpower PC- they have a bunch of models, and they are available online at bestbuy.com (they dont have them in store)
We got the best one for our budget at the time- they probably have better setups now.
http://www.bestbuy.com/site/se...ries&ks=960&keys=keys
then one we got back in 5/16 was:
CyberPowerPC Gamer Ultra Desktop AMD FXSeries 16GB Memory 2TB Hard Drive BlackBlue
Model: GUA2200BST
SKU: 4592900
$699
Then we upgraded the graphics card to a ZOTAC GeForce GTX 1050 Ti OC Edition for like $160. - dont think we ever upgraded the RAM- we put the money in the graphics card- we also upgraded the power supply so he had plenty of juice to run that card. It was pretty simple to install- the CyberpowerPC tower opens up easily and has lots of room.
He is very happy with this setup and let me tell you, he runs some intensive games and he's picky about his framerates!
The computer has held up well over the past year and a half or so.. no problems that I know of- oh and if you want to put the cherry on top, get this keyboard:
http://www.corsair.com/en-us/landing/k70-rgb
for hard drive- 1tb is fine, 2tb is going to probably more than enough.
for processor, the AMD FX series in our box works well- but if you go Intel, you will want at least an i5- and i7 is even better.
for graphics, personally i think its better to just buy a box with a good amount of hd space and a good processor and then upgrade to the best card you can get- the Zotecs work well. This is really where all the gaming power comes from, because its all about rendering the graphics in detail- the better the card, the more processing power is devoted to graphics (its a computer in itself pretty much) which means high framerates and running on high settings on new games (ultra setting, etc)
You do want to upgrade the power supply to something beefy that will still fit in the space- it never hurts to have extra power to spare if you decide to get an even better card down the road. Psupplys arent that expensive..
RAM helps, but you can try and get a bunch when buying the box, and the graphics cards come with their own dedicated RAM
Solid State drives are very quiet and run very fast = quick bootup times. However, they are expensive and generally not very much storage. For gaming- you want terabytes, not gigabytes.
Gaming boxes tend to be noisier due to all the fans- (our graphics card alone has 2 fans on it) so the quiet aspect of the SSD will likely be lost.


-------------------------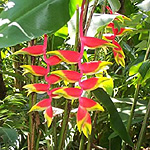 Exotica Tropicals
Plant NurseryBrevard Florida
Edited:
09/01/2017
at
04:59 PM
by
paddleout