Propagating and Growing new coral seems like the right move, along with efforts to improve water quality.
Creating "no snorkel" areas and rotating every 5-10 years might also be a good idea. The tourists definitely takes their toll between hitting/standing on the reefs and their sunscreen.
But growing and planting new coral could be the future. Over time, methods to speed up the growing process in the lab/nursery may be discovered, allowing bigger specimens to be placed in habit at a faster rate.
I think about this the same as I would a depleted area of rainforest or jungle. If I wanted to bring it back, I'd start replanting the big stuff, try and get some canopy going again and while that is growing, I would start propagating the understory stuff so it would be ready to go when the time is right. With any luck it all gets put back in place and takes hold.
Could be a whole new profession for some.. and possibly some hope for the world's reefs.
We need to actively try to undo what we have done and reverse course.


-------------------------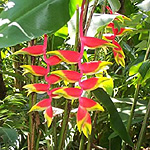 Exotica Tropicals
Plant NurseryBrevard Florida