I already have a camper van project I'm working on so this idea might have to wait, but maybe... someone else would want to try this out?
For anyone who might've considered a Westy or Class B camper due to the poptop and uptop sleeping bunks... what about getting a conversion van or 15 passenger van for around $1k and detaching the fiberglass top to lift up? You could then get a custom canvas sewn for it for and a few custom welded brackets and bamm! (Maybe a cost of about $500?)
This is alot less than the $10-20k which most of the campers sell for. 90% of interior amenities provided by these can be built/designed on the cheap as well... the most expensive parts might be the 12v appliances... and the bathroom stuff can be the removable kind... which avoids the pain of RV maintenance...
The only challenges I'd see are ensuring a tight seal on the roof and possibly the sturdiness of the top once it's detached or cutout, but from the looks of the seals on the Westys are just rubber.
Just some hinges, a hydraulic lifter, and some canvas? (GTRV price= $8k)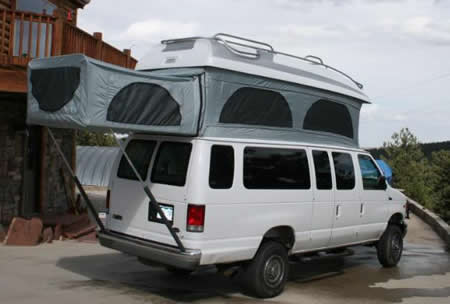 If you already have a 15passenger van and just want a fiberglass top...
More used parts on the Samba: More used parts on the Samba
Edited:
04/09/2017
at
08:11 AM
by
Sector9surf