Date: Saturday, February 12, 2010
Time: 6:00pm - 9:00pm

The Henegar Center for the Arts
625 E New Haven Ave # 119
Melbourne, FL
(321) 723-8698 or purchase tickets at TheHenegar.org
"ACCIDENTAL ICON: THE REAL GIDGET STORY," is a new one-hour documentary narrated by Jorja Fox ("CSI&rdquo

and produced by Brian L. Gillogly and Master Communication. The project explores the largely untold story of the real "Gidget," Kathy Kohner Zuckerman, and how her account of surfing Malibu in the mid-50's became the basis for a best-selling novel by her father Frederick Kohner. A half century later, "Gidget" is celebrated as an enduring Hollywood movie/TV franchise and a slice of Americana, with considerable impact on popular culture and the sport of surfing.
Surf legends and present-day "surfer girls" set the stage and take the Gidget story full circle. Prominent actors, writers and directors, many of whom brought Gidget to the big and small screen, provide an often enlightening behind-the-scenes perspective.
Together with Kathy Kohner Zuckerman, a raconteur like her father, they weave an entertaining and ultimately life-affirming true account of a young girl coming of age amongst the waves at Malibu's fabled Surfrider Beach—and how a somewhat idealized vision of that girl became a true American icon.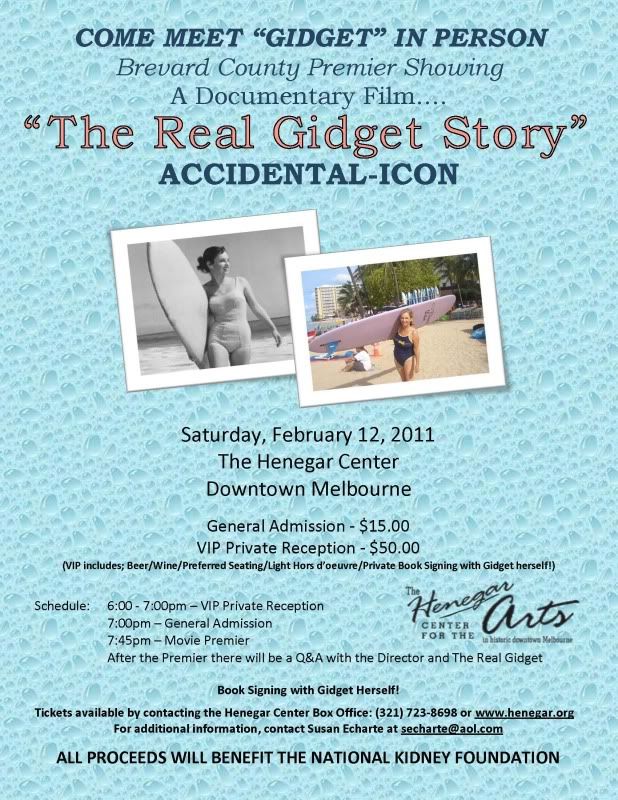 -------------------------

Aloha & God Bless ~ I come in PEACE from 16streets.com \m/